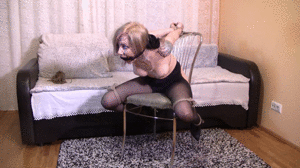 11:28 video
Vivienne had been acting suggestively to me all day when we shot this. I could tell she was feeling hot and horny, ready to get some bondage action going and maybe a little something else. I ignored her for much of the day, only making her situation worse. She was walking around the house, rubbing against me, kissing on my neck, doing anything she could to get my attention.
So I did what any good sadistic bastard does, I kept ignoring her advances. She even went so far as to wear this sexy pink outfit she has been saving, just so I would torment her and get her off. At this point I must admit even my willpower was at an end so before she knew it, she was trussed up super tightly, with an uncomfortable crotchrope digging deep into her pussy. I let her stew like this for a little while before untying her legs and getting to work...
This an update you can view over at VivienneVelvet.com! Go check out the sister site with your OW! username and password!