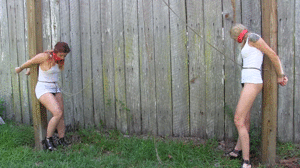 8:14 video
The ladies get themselves into all sorts of trouble. This particular time, they are trapped at my mercy and unfortunately for them, I don't have much mercy to give. Fayth and Vivienne are both bound to poles facing each other, wearing high heels in the sandy soil. Their arms are tied around the poles behind them, with a crotchrope tied and the loose end draping over a pulley above their heads.
Vivienne decides she wants to stomp on my foot with her high heel so I make sure she regrets that decision by wrapping duct tape over her ballgag, effectively cutting off almost any noise that could come out of her mouth. Fayth gets the same treatment and also stomps on my foot. At that, I'd had enough.
I take the loose ends from the crotchropes and tie them off to the opposing girl's leg, lifting them high in the air so that not only weight, but also torque, causes their poor pussies distress. And their legs cramp pretty well too, I'm sure. I bind their necks to the poles, limiting their head movement and just let them wallow in their misery. Maybe they will learn their lessons...