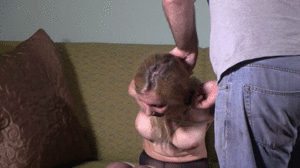 15:32 video
Around here things can get pretty heated. I mean that literally, with the temperatures and the humidity being absolutely awful in the summer time, but we make do the best way we can. Vivienne and I hadn't gotten to do any serious playing in a while so when we visited our friends over at SandraSilvers.com we had to take advantage of the beautiful studio we get to shoot in.
Vivienne was only wearing a pair of black pantyhose and some very sexy black high heels. Her legs are crushed together with merciless rope and her arms are bound at the wrists and elbows. You can tell how much the arm rope hurts because she definitely complains about it during the video. I stuff the blue ballgag in behind her teeth and strap it on to the smallest hole in the strap (note to self: make tighter strap holes for Vivienne). Because I know she'll try to spit it out, I wrap a whole roll of vet wrap over it, crunching her jaw tightly against the barely flexible rubber ball.
Finally, as a final touch, I go ahead and nipple clamp her with string hanging loose. Binding the string behind her head bends her over nicely and she struggles to maintain the position. I toy with the strings a bit but mostly let her wallow in abject misery by herself on the couch.
At the end of the video, I go ahead and show you the process of removing the clamps from her nipples. Let me say, if you like watching girls tormented, this bit is a must see. I'm glad I had her gagged, that's all I'll say about that.