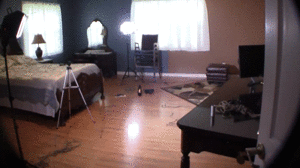 11:36 video
Vivienne decided, even after being caught earlier in the day, that sneaking off to masturbate in a strange room where she isn't seen immediately would be a good idea. Of course, she had to film it too, because she loves being watched. Well, I knew where she had gone. I saw her sneak through the house, even as I was too busy to deal with the situation. But Vivienne set me up for a delightful situation, without realizing what she was doing.
She snuck into the room where I had just finished shooting with another model and proceeded to pick up the various implements we used in the shoot. She found the vibrating wand and a bunch of rope as well as a pair of handcuffs. I suppose she thought this was an invitation, so she quickly got to work.
She bound her legs together, tightly, so that she wouldn't be able to run away if she was caught. Then she stuffed a ballgag into her mouth and strapped it in very snug. Once she was done with that, the handcuffs completed her bondage rather quickly and she was now completely stuck. I waited a little bit, letting her get more and more aroused by her situation, before "stumbling" upon her being naughty. She begged and pleaded with me, even as I turned the lights off and left her by herself, without the handcuff keys and with no way to get free...