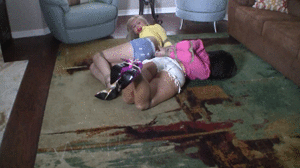 8:21 video
Gigi thinks she is going to pull a fast one on Vivienne. She invites us over for dinner and the whole time she is flirting with me. She even wore cutoff shorts and these incredible pink pumps that get my dick hard and fast. She makes one of my favorite foods as well. I think she has something in mind for us this evening, but I don't let her know I'm suspicious.
After dinner, we are lounging around, watching some television, when Gigi suggests that it would be way hotter and more fun if Vivienne was immobilized while we were hanging out. Vivienne looks concerned but I give them both my most charming grin and let Gigi know that I agree. Before anyone knows what's happening, Vivienne is completely bound in rope, with even her hot fuck-me shoes still on her feet. Gigi pushes her with a foot and then turns her attention to me.
But she turns a little too late.
By the time I grab the video camera, both girls are completely helpless on the floor. There is a lot of struggling and whining through the ballgags, but I let them just do their thing. I'm sure Gigi is having a great time. Then again, I'm not too concerned with that. Vivienne still doesn't understand that Gigi wanted me for herself and so starts to try and untie her. I let it go for a few seconds and then come over and kick the girls a little bit, to make them not forget who is in charge for now.
I decide I've had enough of the rolling around and attempts at escape and add more rope, pulling both of the girls up into very uncomfortable hogties. There is more whining and a lot of drooling at this point. I just leave them to squirm.